The Cleveland Cavaliers have parted ways with general manager David Griffin. While casual observers have long joked about Lebron running the front office, anyone actually paying attention knows that's not the case. None of Griffin's predecessors were able to assemble anywhere near as good a supporting cast around James.
To be certain, a lot of this was luck. Previous GM Chris Grant fleeced the Clippers for an unprotected first-round pick that became Kyrie Irving, giving Lebron a second star that he never had in his first go-around in Cleveland. And the Cavs "binked" the 2014 lottery, acquiring the #1 overall pick despite having only a 1.7 percent chance to do so. This allowed them to acquire a third star (Kevin Love) via trade.
Once the foundation was laid, however, "Griff" showed a knack for creative trades and an absolute mastery of the league's byzantine salary cap structure. He parlayed minimal assets–primarily owner Dan Gilbert's deep pockets–into real-life, honest-to-God useful NBA playoff rotation players. Griffin was the sort of GM that you'd want running your team in the post-Lebron era: intelligent, hard-working, and possessing the trust of other league execs that is so crucial in executing deals.
Griffin's departure comes at an awkward time: two days before a stacked draft that will likely feature more drama than we've seen in years. Fortunately, at this point the tactics are largely preordained: free agency isn't a thing for the capped-out Cavs (save for minor exceptions that can bring in 11th-man flotsam), and the trade values for available upgrades are largely known. Thus, the Cavs' offseason moves will be determined by management's high-level philosophical perspective on the current NBA landscape. Once you decide this, the next moves are somewhat self-evident.
Here I will briefly analyze four main possible ideas that Gilbert could have about the league and his franchise, a brief elaboration of them, and what the idea would dictate tactically.
Philosophy #1: The Cavs aren't prohibitive underdogs in a theoretical Finals rematch with Golden State. Staying the course could reasonably yield different results next year.
We're talking about a team that won 151 regular-season games in the past three years despite switching head coaches and having to do a complete organizational 180 from rebuilding squad to title contender. Lebron showed no sign of aging and is still the best player in the NBA. Don't fall victim to the "politician's syllogism".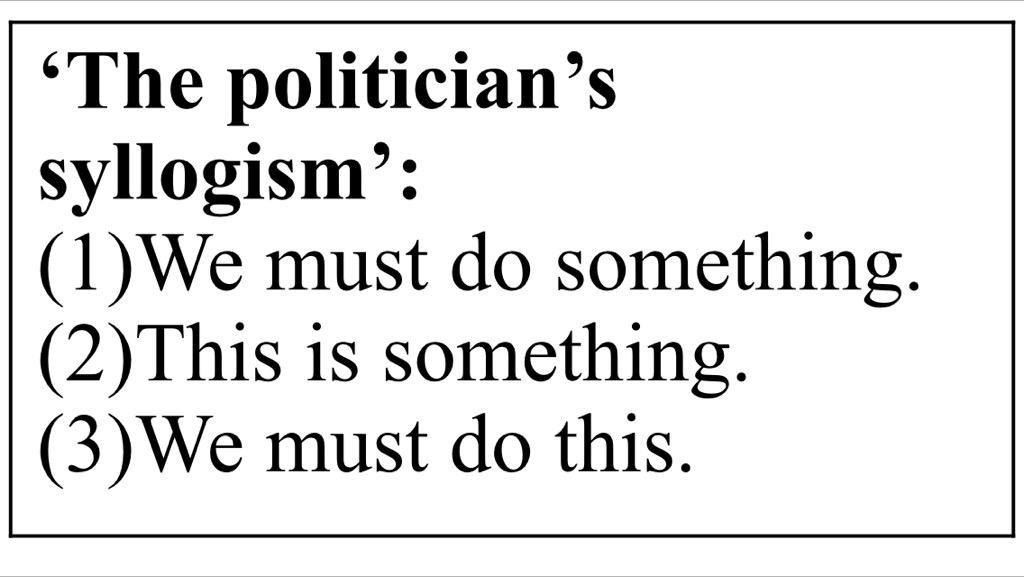 Plan: Try to find athleticism and defense with the taxpayer's midlevel exception, using the "Lebron discount" to lure a ring-chasing veteran. Cut Lebron's minutes in the regular season knowing that playoff seeding doesn't matter. Hope that marginal tweaks plus a better-rested Lebron gives you a fighting chance. Barring -multiple- major moves from Boston, this sets your likely floor as a fourth-straight Eastern Conference championship.
Philosophy #2: The Warriors are great, but they're beatable from a Lebron-led team with a bit more defense and playmaking help, even at the expensive of offense.

The Cavs competed with Golden State for large stretches of the series despite Tristian Thompson completely disappearing. He'll revert back to the mean…in a good way, helping to close some of the defensive and rebounding gap. You'll never beat this Warriors team in a shootout, so acquire a piece that will help you slow the pace like you did in the 2016 Finals.
Plan: Trade Kevin Love and a rotation player for Jimmy Butler or Paul George. This will probably cost you some regular season wins, but against the Dubs' small "death lineup" you'll be able to switch more and make them worry about another playmaker.
Philosophy #3: The Warriors are a superteam that no amount of realistic roster-tweaking can undo
A reasonable viewing of the Finals comports with what advanced metrics said: the Cavs were not on the same level as the Warriors, who are returning every major piece and will have another full season for them to gel. All of their stars will be under age 30 and under contract for multiple years. The Cavs weren't one bad break or a few missed shots away from winning this series; they were simply outclassed. Swapping one star for another, even if it nets you an improvement, won't get you over the hump and could lead to disaster.
The 2016 title was as flukish as they come, but also buys you requisite patience from the fan-base necessary for a rebuild. Finally, for all the fear of Lebron walking in 2018, he'll be entering his age-34 season. This is no longer a player that you should move heaven and earth to accommodate.
Plan: Don't sign anyone to multiyear deals, including Kyle Korver. This likely means that he'll walk, so replace him with an aging sharpshooter on a one-year deal. Refuse to bow to pressure from Lebron to trade for any onerous veteran contracts. The only untouchable player (save Lebron) is Kyrie Irving; any other trade-deadline deals that would help infuse youth or draft picks should be seriously considered.
Philosophy #4: The Warriors are incredible and unbeatable, but Cleveland will riot if Gilbert doesn't make the most of every single season of Lebron James.
The underlying philosophy is the same as #3, but Dan Gilbert–who quite clearly cares a great deal about public perception–doesn't want to become Public Enemy #1. Fans will not accept the organization wasting a single season from their beloved hometown star, even if they know it's a fool's errand against the Warriors juggernaut.
Plan: Either #1 or #2, but combined with a great deal of spin.
I believe #4 to be the likeliest scenario. My preferred path is #3, as I'd like to be able to contend again before I turn 50 years old, but there is zero chance of that happening.